What You Can't Store at Macy's Cubes Self Storage
Dangerous Goods that Must Not be Loaded for Storage or Transport in Cubes Self Storage.
Dangerous goods are items or substances that may endanger the safety of the goods being stored for you and others in cubes self storage.
There are a few things we can't store or transport for you.
The following items must not be loaded into Macy's Cubes Self Storage (under any circumstance):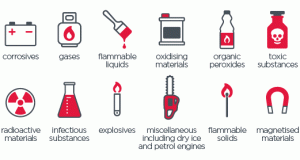 Other such items include but not limited to;
Illegal goods of any sort
Firearms or ammunition
Petrol or gas engine equipment either new or used such as a chainsaw, lawn mower, trimmer
Cigarette lighters with a blue flame and cigar lighters
Spillable batteries
Gas cylinders or cartridges, propane, LPG, BBQ Gas.
'Strike anywhere' matches
Fire extinguishers
Aerosol cans
Explosives such as fireworks, flares, sparklers, party poppers
Flammable liquids and solids such as paint, lighter fluid, thinners, lacquer, fuels
Bleaching powders and peroxides
Poisons such as weed killers, insecticides,
Pool cleaning products
Flammable solids such as fire starters, mothballs
Fertilizers
Fiberglass repair kits and resins
Live animals or plants
Perishable Goods
Need more help call us on 1300 40 90 69