Self Storage Made Easy
Simple and Efficient Home and Office Furniture, Commercial Storage Solutions. Self-storage options for a lot or a little, for personal or business use. Storage cubes that come to you, Whether it is home or work, We'll bring the best solution to you.

---

We Deliver – the Macy's Storage Module to you and place it in a convenient and safe space for you. Your Macys self Storage module is custom built to last.  Constructed with a thick hardwood and plywood base to structural grade timber and plywood frame walls and roof, our modules are solid and extremely secure. With the added protection of 2 locking points on the door for your own locks. Macy's Storage Module has been custom built from the ground up.
You Load – Your Macys self Storage module, and lock it when you're done. To avoid damage to items during storage and transportation, place heavy and solid items on the bottom of each Macy's Storage Module and lighter items that may crush on the top.
Keep everything square and firmly loaded in your Macy's Module. If you don't completely fill the Macy's Module with your items make sure you fill all the floor space of the module and things won't fall forward or down during transportation. Fill in as much empty space as you can, use empty moving boxes to fill in space. This helps tighten up the load ensuring things won't move around.  Use proper packing supplies, including correctly sized boxes that won't crush or tear, bubble wrap on fragile items, and moving blankets on the furniture items this will prevent rubbing or scratching.
We Collect – Your Macys self Storage module and return it to our secure facility. Your goods will be stored with all the other modules we have.
We Store – Your Macys self Storage module will be held safe and secure in our facility. Here are a few features of our facility:
A modern and clean storage facility
State-of-the-art security features
Competitive prices
Secure alarmed site
24-hour CCTV surveillance
Friendly staff
---
How Much Can You Store in a Storage Cube? We have 2 Sizes!
---

Our Small Storage Module Size: 2.42m deep, 1.22m wide and 2.30m high externally or 2.30m deep, 1.20m wide and 2.16m high internally. Macy's Storage Module also have a large door 1.20m wide and 2.16m tall for easy access and can hold up to 1 tonne of weight.
Our Large Storage Module Size: 2.42m deep, 1.52m wide and 2.30m high externally or 2.30m deep, 1.50m wide and 2.16m high internally. Macy's Storage Module also have a large door 1.20m wide and 2.16m tall for easy access and can hold up to 1 tonne of weight.
---
Why would you need Storage in Sydney?
We understand how difficult it is to give your full trust to total strangers when it comes to handling your items. That is why our creative and reliable team has come up with the idea of secure self-storage in Sydney. In that way, you will have a good impression that whatever items you want to store in it, personal, business, and even Christmas stuff, we can guarantee its safety and cleanliness. Macy's Mobile Self Storage can provide affordable and cheap storage units. We are not only providing the space of our facility for your belongings but also ensuring to meet your budget in our plans and quotes for all our services. Renting depot units does not need to be expensive. Because there are depot facilities out there that can give you awesome discounts and good bargains. And that's what we are popular for aside from providing secure self-storage in Sydney. We can accommodate your needs, regardless of the span of time you need our services.
Another quality of secure self-storage in Sydney is that you can store your belongings in a clean, well-ventilated place. And when it comes to accessibility, whenever you need access to your stuff, you just have to notify us ahead of time and we'll get it ready for you. How simple and easy is that? Macy's Mobile Self Storage can bring you convenience in so many ways! So, whether you have a business or library relocation, you can rely on us in storing your items and keeping them in a good shape.
Secure self-storage Sydney can bring you great amenities. From the convenience of accessing it to its ability in keeping your stuff protected. You can never go wrong when you choose to have it. Our company has been delivering good quality services when it comes to storing people's belongings. We've already earned wide experience for so many years. That's why keeping your stuff is a bit easy for us yet we still maintain and do our best to provide you with an awesome experience.
Storage Units Sydney
Macy's Storage Module is custom-built to last. Constructed with a thick hardwood and plywood base to structural grade timber and plywood frame walls and roof, our modules are solid and fully enclosed and extremely secure self-storage units in Sydney. With the added protection of 2 locking points on the door for your own locks. Furthermore, Macy's Storage units have been custom-built from the ground up. Our secure self-storage units are of timber construction allowing your items to breathe naturally and minimises the risk of sweating which is much better than steel and plastic containers, reducing the chance for mould and mildew. Let Macy's mobile self-storage deliver simple, secure, affordable self-storage units to solve all your storage needs. How easy is that? In fact, our mobile self-storage units in Sydney are perfect for all types of domestic, student, commercial, and business storage needs. Rely upon our expertise to guide you through a solution to your self-storage, moving, and packaging requirements.
How to Find Cheap Storage Units in Sydney?
Looking for a cheap storage facility would be easy in today's trend. In fact, a lot of them have sprouted almost everywhere. However, finding the right and cost-effective company would be time-consuming. As a matter of fact, there are factors that you need to look into. In this way, you could make sure that what you will hire is exactly the one that you're looking for. With years of experience in the self-storage business, Macy's has the cheapest self-storage service in Sydney which has gained customers' trust with our fair service. Our modules are delivered right in front of your doorstep with all the packing materials you need. No need to bother hiring vehicles, simply fill the storage cubes then call us. We will do the hard work of loading and unloading your things.
Then you can lock your self-storage module with your own locks. We will then collect when you're done. How easy, eh?
From delivering the modules to storing them, our secure facility is equipped with CCTV cameras together with a fire alarm system, so rest assured your things are in good hands. Furthermore, whilst being the cheapest self-storage service in Sydney, Macy's Mobile Self Storage guarantee you to provide only the best and quality short or long term self-storage service. You only pay for the days you use. Fixed price guarantee. No surprise rate increase. And most of all, no hidden charges!
Macy's Self Storage Solution – Self Storage Near Me
Looking for the perfect place where you can keep your items safe and secured whilst you're away? Whether you're having a move or just don't have enough space at your place, Macy's Mobile Self Storage is perfect for you! The packing, lifting, and even dismantling are all tough tasks. And as experts, we understand your main concern is making sure your belongings and even products are protected. As well as even off from getting damaged whilst being stored. If that's the case, then, Macy's Mobile Self Storage is absolutely right for you! Aside from making sure that your items are in a cool, clean, and secure place, your safety also matters. Good thing, Macy's Mobile Self Storage has the best team who can perform various duties without putting anybody at risk. Before we provide services to our clients, we make sure that our staff are fully trained. And that's to guarantee we can meet the client's demands. If you wish to give us a hand during the process, it's totally fine. We will just make sure that you'll have the easiest and lightest task because we're the ones who'll do the tough tasks for you! Because we believe that you deserve what you pay for.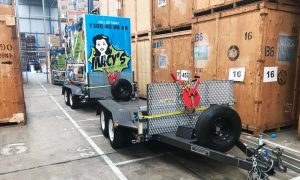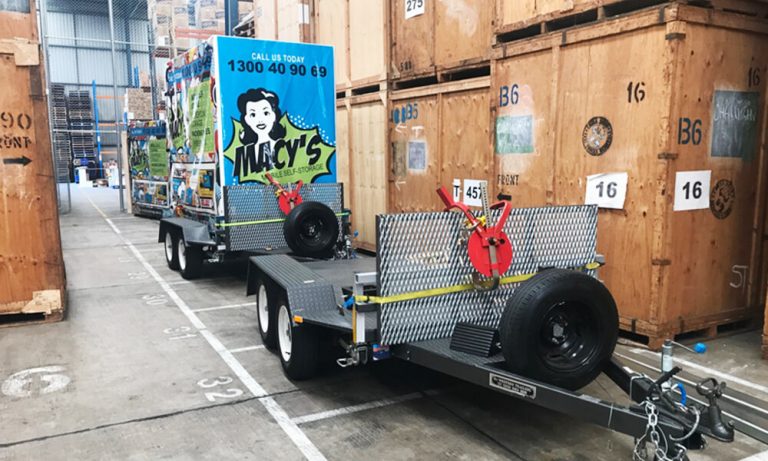 Along with this, we also offer great discounts and deals to our loyal and potential clients. As well as different storage units, like short term storage, a unit that can totally satisfy your needs. There are many benefits that leasing storage units can bring to you. Our self-storage facility is accessible all the time. So, whenever you want to access them, it's absolutely fine. You also don't have to worry about your items being stolen. Because our facility has security features that can keep your stuff intact whilst being stored in a unit. As mentioned above, we make sure that we provide the kind of privileges to every client that we have. No matter how long or short you want to have a depot in keeping your stuff, it's not a problem! As long as we deliver convenience to you and save you from getting stressed because that's how our business works. And when it comes to your cost, we also got your back! You can find cheap depot units that'll suit your budget on our facility that'll also match your depot needs.
With Macy's Mobile Self Storage, it's easy and simple to store your stuff. If you're not sure how efficient and awesome it is to have, feel free to ask us! We're glad to answer your concerns and questions about our depot units as well as our rates. Because we value you as our potential and loyal clients. Thus, we treat you like one. Our exemplary customer service is what makes us well-known in this business. When it comes to your complaints and suggestions, we guarantee that our lines are open to hearing them. This is one way to improve our services in keeping your belongings in a safe, clean, and secured place. Macy's Mobile Self Storage has a user-friendly website that has in-depth videos and testimonials to assist you through the process of packing, preparing, and loading your stuff into our storage units. We even have the perfect team who'll do the loading, unloading, and carrying of items along corridors. Macy's Mobile Self Storage brings the storage unit straight to your door which makes the whole process simple. Just load it up, lock it up, and call us for a collection. Sounds great, isn't it? You've not only saved time, but also effort and money.
Macy's Mobile Storage offers Self Storage Solutions in the following Suburbs:
If your location is not listed below, don't worry – MACY provides services throughout Sydney's metropolitan region, as well as the outlying districts and suburbs.
Macy's Self Storage Solution for Sydney in Northern Suburbs
Artarmon, Chatswood, Gordon, Hornsby, Hunters Hill, Manly, Mosman, Pymble, Ryde, Willoughby
Macy's Self Storage Solutions for Sydney Eastern Suburbs
Bayside, Bondi, Coogee, Eastern Suburbs, Epping, Kingsford, Randwick, Vaucluse, Waverley, Wentworth, Woollahra
Macy's Self Storage Solutions for Sydney Southern Suburbs
Arncliffe, Ashfield, Botany, Burwood, Hurstville, Kogarah, Maroubra, Mascot, Pagewood, Rockdale, Roseland
Macy's Self Storage Solutions for Sydney Western Suburbs
Blacktown, Chullora, Canterbury, Ermington, Greenacre, Homebush, Kingswood, Kemp Creek, Quakers Hill, Parramatta, Penrith
Self Storage Sydney Inner City Suburbs
Alexandria, Annandale, Barangaroo, Darlinghurst, Marrickville, Newtown, Paddington, Redfern, Randwick, Rosebery, Sydney CBD
Do you want to know whether we can come to you? To discover, and acquire an Instant Quote. If you're still unsure, call us at 1300 40-90-69 or send us an email at [email protected].
Moving and Removal Services
In a perfect world, moving should just be as easy as "Point A to Point B". But sadly, in reality, it is not. Even finding a new place is already hard enough. If you've tried moving, then probably you've prayed you didn't have to do it again. But here you are reading this. You've come to the right place. Moving self-storage Sydney certainly is the help you need. We can help you move smoothly and worry-free. Why do you need an Office Removalist in Sydney services when you move? Now let me just confront this question right on while you're here. The answer is simple "convenience". One of the core dilemmas to moving is the fact that you can't simply dump your stuff to the new place.
You know exactly what I mean right? They won't get organised by themselves. And you don't want to find yourself staring at that heap of chaos again. The best solution is to move them one batch at a time. This basically means you will need a temporary location to store them, hence moving self-storage to or in Sydney. So, did you get the plan good? Move, temporarily store some of the stuff, then move them periodically and a batch at a time as you organise the place, simple isn't it? Well, there is still the leg work, but not as much as confronting a mountain of stuff you need to organise all at once. May you be looking for Business Removalist from Brisbane to Sydney, Office Removalist Services, and Interstate Removalists, we got you covered.
Business Storage in Sydney
Macy's Mobile Self Storage has the perfect business and commercial storage facility that can definitely secure and keep your items safe. Especially when choosing to have business storage in Sydney. We also provide convenience in different ways! Such as offering you packing items if you don't have any, giving you ample time to pack your stuff, and even offering you great deals is included. Are you running out of space where you can store your business files as well as equipment and other items? Then, don't worry! Macy's Mobile Self Storage got you! Are you looking for the right place where you can store them while you are having a renovation or planning to move? Then our facility is perfect for you! We provide different types of depot modules that will suit your needs. Business storage Sydney can help you maximise the space that you have by keeping some of your stuff in the meantime. And if you think you still need more time in managing your office documents and items, then feel free to extend your lease of the depot with us!
Business Storage Sydney can bring lots of benefits to you! We can guarantee the security and safety of your items while being stored in our storage units. Thus, you can operate your business smoothly and efficiently since you already have enough space to organise your products or documents. Not only that but this is also a good opportunity to replace the old equipment with new ones such as photocopying machine, printer, desktop and so on and so forth. No matter what size you need, a small or big depot unit, we have it for you! Finding the right one for you is easier when you know what you are looking for. There are some factors that you have to check which our professional team can help you with. Just let us know what items you have to store, your budget as well as the time frame you need when keeping the stuff. Don't worry because you can actually extend your lease contract with us anytime.
Some of The Benefits you'll get with Macy's Self Storage Cubes
We'll help by taking the stress out of the process, our staff are trained and understand what you are undertaking and how most people feel during this process. This is done by working the solution to your needs. You simply tell us when you need our cubes, use our storage calculator to work out how many you will need and we will deliver it to your door! You fill out the Macy's Mobile Self Storage Cubes and we will collect when you're done and return them to our secure facility for storage.…… How easy is that!